— a Punctum Books imprint —
Founding Editor: John Foran (contact)
FOUNDING PLANETARY ADVISORY COLLECTIVE
Majandra Rodriguez Acha, Writer/Activist, Peru
Reem Almealla, Marine Biologist/Activist, Bahrain
Anjali Appadurai, Journalist/Activist, Canada
Ian Angus, Writer/Activist, editor of Climate & Capitalism, Canada
Patrick Bond, Professor of Development Studies/Activist, South Africa
Mariah Brennan Clegg, Ph.D. candidate in Sociology, Scholar/Activist, UC Santa Barbara, US
Ingrid Feeney, Ph.D. candidate in Anthropology, Scholar/Activist, UC Santa Barbara, US
Greta Gaard, Professor of Women's Studies, University of Wisconsin, US
Shannon Gibson, Lecturer in International Relations, Scholar/Activist, University of Southern California, US
Corrie Grosse, Scholar/Activist, Assistant Professor of Environmental Studies, College of St. Benedict and St. John and St. John's University, US
Hahrie Han, Professor of Political Science, UC Santa Barbara, US
Ken Hiltner, Professor of English, UC Santa Barbara, U
Brad Hornick, Scholar/Activist, Simon Fraser University, Canada
Theo LeQuesne, Ph.D. candidate in Global Studies, Scholar/Activist, UC Santa Barbara, US
Julie Maldonado, Lecturer in Environmental Studies, Scholar/Activist, UC Santa Barbara, US
David Pellow, Scholar/Activist, Professor of Environmental Studies and Sociology, UC Santa Barbara, US
Sarah Jaquette Ray, Associate Professor of Environmental Studies, Humboldt State University, US
Margaret Klein Salamon, Founder and Director, The Climate Mobilization, US
Pablo Solón, Scholar/Activist, Former Climate Negotiator for Bolivia, Former Director, Focus on the Global South, Bolivia
Ophélie Verón, Scholar/Activist, France
Richard Widick, Scholar, Author/Filmmaker, US
Leehi Yona, Scholar/Activist, Canada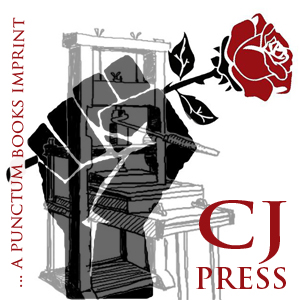 FORTHCOMING from CJ PRESS
a Punctum Books imprint
2015: Year Zero for Climate Justice
John Foran
Fall 2019
About the Book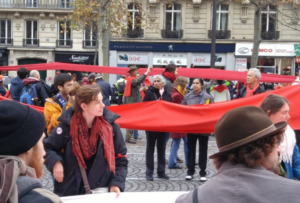 Thousands of people brought their "red lines for the climate that must not be crossed" to the Arc de Triomphe on December 12, 2015. Photo: John Foran, 2015
CJ PRESS – Vision Statement
Climate chaos. Trump. The sixth extinction.
The Anthropocene arrives.
These epochal developments compound exponentially today's interlinked crises of predatory neoliberal capitalism, disenchantment with political parties, genocidal militarism, and everyday cultures of violence, just as they unleash rampant inequality, suffering, incarceration and forced migration, stealing lives and livelihoods.
Who is responsible for this devastation to families and communities on the front lines of impact, communities who are also often the least responsible for the changing climate?
What nations and militaries, which corporations and banks, and what structures of power enable this state of affairs?
But what if this didn't have to be the end of the story?
Where there is oppression, there is also agency and resistance. Communities, peoples, allied species and Mother Earth herself are fighting back against the dystopian status quo of the one percent.
We are standing together across regional and cultural lines in defiant movements of opposition and visionary acts of creation.
Collectively and loosely, these risings trace the contours of the global climate justice movement.
Our vision for the Climate Justice Press is to be a vehicle to affirm these struggles and nurture their visions of better futures.
We intend this space to be one of radical imagination, supportive yet critical thinking and, ultimately, a nonviolent weapon of mass creation.
In Cruising Utopia, José Esteban Muñoz refers to an "unforeclosed expectancy" that involves "finding the openness where an unknown or queer futurity might start, a journey with companions and with a destination difficult to know in advance," as Jeffrey Jerome Cohen and Julian Yates have eloquently put it .
We will publish works from and about the climate justice movement, testimonies, eyewitness accounts and the first drafts of a new history – fiction, non-fiction and everything in between.
We leave at dawn.
Join us.
There will be dancing.