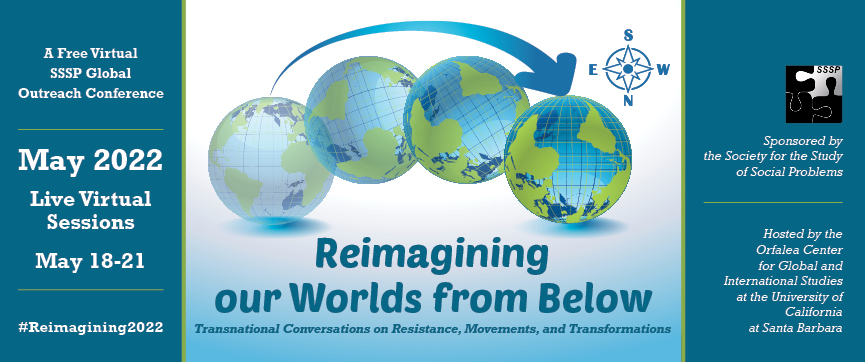 #Reimagining2022
***
Keynote Roundtable:
Constructing Common Ground and Transformative Pathways Through Decolonial Methodologies and Pedagogies
Rachel Issa

Does

, Eva Maria Fjellheim, Mayssa Rekhis, and Lena Gross
May 18, 5-6:30p

UTC

Rachel Issa Djesa is an associate professor at the Centre for Sámi Studies at UiT, the Arctic University of Norway. Holding a PhD in social anthropology, her work has covered areas surrounding decolonizing knowledge and academia, intercultural communication, visual anthropology, and knowledge and power in Cameroon.

Eva Maria Fjellheim is a southern Saami scholar and writer, indigenous rights defender and radio documentary producer. She has a diverse background working with Saami and indigenous issues through solidarity work, politics, journalism, art projects and research in Saepmie and abroad, especially in Latin-Amerika. Since 2018 she is undergoing doctoral studies at the Centre for Sámi Studies at UiT, the Arctic University of Norway. In her doctoral project, she explores conflicts which arise when climate change politics and mitigation measures compromise indigenous peoples' rights to lands, ancestral livelihoods and well-being. Her empirical focus is the expansion of the wind energy industry on southern Sámi reindeer herding lands, but she also draws on experiences of similar struggles in Latin-America.

Mayssa Rekhis is a Medical Doctor, Anthropologist, educator, writer, and activist. She is currently a Ph.D. candidate at the School for Advanced Studies in Social Sciences: EHESS-Paris and a lecturer at the School of Public Health and Community Medicine at the University of Gothenburg. Her doctoral work is situated in between psychological and medical anthropology, exploring the experiences, discourses, and practices related to trauma and trauma-therapies in relation to forced migration and exile, in Sweden. Pursuing an anti-colonial approach as a praxis in teaching, research, and activism, she has worked with the question in both Europe and SWANA (South West Asia and North Africa).

Lena Gross is a postdoctoral fellow at the Centre for Sámi Studies at UiT, the Arctic University of Norway. Their work is on conflicts surrounding resource extraction on Indigenous lands in Sápmi (Fennoscandinavia) and on Turtle Island (Canada), different types of knowledges, gender diversity, and (colonial/frontier) masculinities. They hold a PhD in social anthropology from the University of Oslo.
http://test-ejcj-huborfaleacenterucsbedu.pantheonsite.io/wp-content/uploads/2017/03/01.-EJ-CJ-Logo-WHITE-512x512-300x300.png
0
0
Baron Haber
http://test-ejcj-huborfaleacenterucsbedu.pantheonsite.io/wp-content/uploads/2017/03/01.-EJ-CJ-Logo-WHITE-512x512-300x300.png
Baron Haber
2022-05-18 00:37:47
2022-11-22 23:34:52
Reimagining Our Worlds From Below: Keynote Roundtable