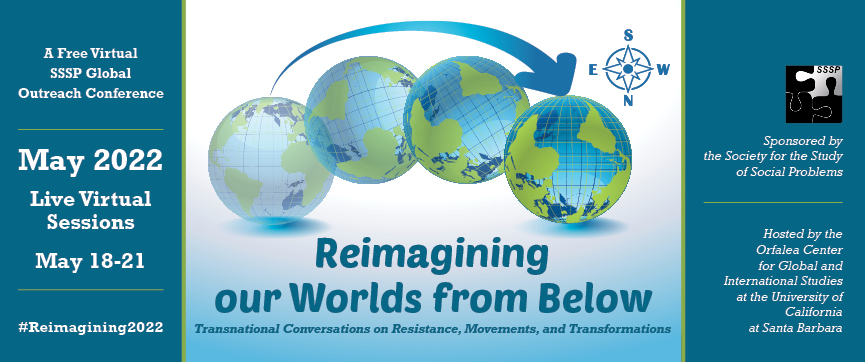 #Reimagining2022
***
Crafting Global Feminist Autoethnographies:
Reflections on Decolonizing Pathways
COVID-19 has wrought displacements and disruptions on social life and the ability to be connected, which are experienced differently based on hierarchies of race, class, gender, sexuality, age, among other statuses. These displacements and disruptions are further divided based on distinctions between the Global North and the Global South. Drawing on lessons from our just-released book on Global Feminist Autoethnographies during COVID-19, a collaboration of differently located scholars in ten countries writing about local and transnational experiences, this panel discusses the disruptions, displacements, and distress that were the themes of the book. It further considers the importance of decoloniality that is required to dismantle the hierarchical structures in which we are embedded and which we considered carefully in editing this volume.
Discussants: Josephine Beoku Betts, Florida Atlantic University (USA);  Melanie Heath, McMaster University (Canada); Deepali Aparajita Dungdung, Ranchi University (India); Rituparna Patgiri, Indraprastha College (India); Bandana Purkayastha, University of Connecticut (USA)
http://test-ejcj-huborfaleacenterucsbedu.pantheonsite.io/wp-content/uploads/2017/03/01.-EJ-CJ-Logo-WHITE-512x512-300x300.png
0
0
Baron Haber
http://test-ejcj-huborfaleacenterucsbedu.pantheonsite.io/wp-content/uploads/2017/03/01.-EJ-CJ-Logo-WHITE-512x512-300x300.png
Baron Haber
2022-05-11 03:38:53
2022-05-18 01:01:03
Reimagining Our Worlds From Below: Invited Conversation 4